Description
George II (1727-60), silver shilling , 1741, young laureate and draped bust left, legend and toothed border surrounding, GEORGIVS. II. DEI. GRATIA.
Reverse, crowned cruciform shields, roses in angles, garter star at centre, date either side of top crown, (S.3701).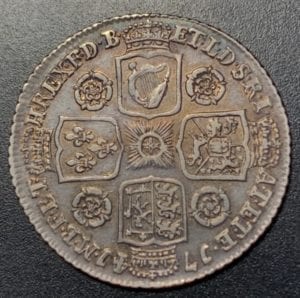 Take a look at the video to appreciate what the coin will look like in the hand
Alternatively, take a look at https://www.acsearch.info whereby auction results can be viewed, please note that these results are normally shown before Buyers Premium and VAT
Please note that GMCoins is not responsible for the content on any associated website.