Description
SOLD
Elizabeth II, (1952-) Maundy Set struck in 22ct Gold, 2002
Maundy Set struck in Gold, 2002. S.4212-4215.
Fourpence, threepence, twopence, penny. Elizabeth II Obverse, Mary Gillick's superb young portrait of HM the Queen, right.
Reverse, Crowned numeral denoting value. A truly mint state of coins and one of only 3 or 4 dates of Maundy Sets struck in gold – the other available dates (when on the market) would probably cost upwards of £30,000. These were issued in the 2002 Golden Jubilee gold coin collection, and only a few gold Maundy Sets have been taken from the sets and are now available to market. Struck in 22ct gold to Proof standards.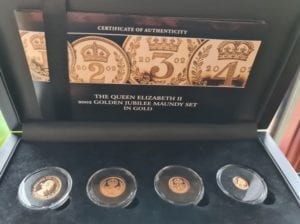 Alternatively, take a look at https://www.acsearch.info whereby auction results can be viewed, please note that these results are normally shown before Buyers Premium and VAT
Please note that GMCoins is not responsible for the content on any associated website.